Most people, if asked to name something connected with Brighton, would suggest the Prince Regent's seaside palace (the Royal Pavilion) or the Lanes or Graham Greene's book,
Brighton Rock
, or illicit assignations (dirty weekends - also started by the Prince Regent). But back in the mid-1930s Brighton was known for something much more grisly, the Brighton Trunk Murders.
Would you, I wonder, buy a secondhand car from this man? He was Cecil Lois England, aka Tony Mancini, and it will soon be the 80th anniversary of his trial on a charge of murder.
In 1934, the 41-year-old Violet Saunders aka Violet Kaye, a former dancer, was living with Mancini at Park Crescent, Brighton. Mancini was working at the Skylark Café on Brighton seafront while Saunders worked as a prostitute. She had a drink and drugs problem and was, by some accounts, an insecure person. It seems she accused Mancini of flirting with a waitress at work, after which she vanished, Mancini telling people she had gone to Paris to work.
In June 1934, a cloakroom attendant at Brighton railway station noticed a nasty smell which he traced to a locked trunk. When the police opened the trunk, they discovered the torso and arms of a woman. Only two days earlier, or as some versions have it, a day later, another trunk at Kings Cross station, London, was found to contain the legs of a woman. Police were unable to identify either woman (assuming that they were two different people) but Violet Saunders' absence had been noticed and was brought to the attention of the police. Mancini was brought in for questioning and released, but his new lodgings, a basement flat in Kemp Street, Brighton, were searched.
A large trunk, which he was using as a table, contained the rotting and malodorous body.
Mancini had disappeared but was arrested in south London and charged with the murder of Violet Saunders. Rather surprisingly, he was acquitted - although many years later he confessed to the
News of the World
newspaper that he had committed the murder, a confession he later retracted.
And the woman in the trunk at the stations? She was never identified.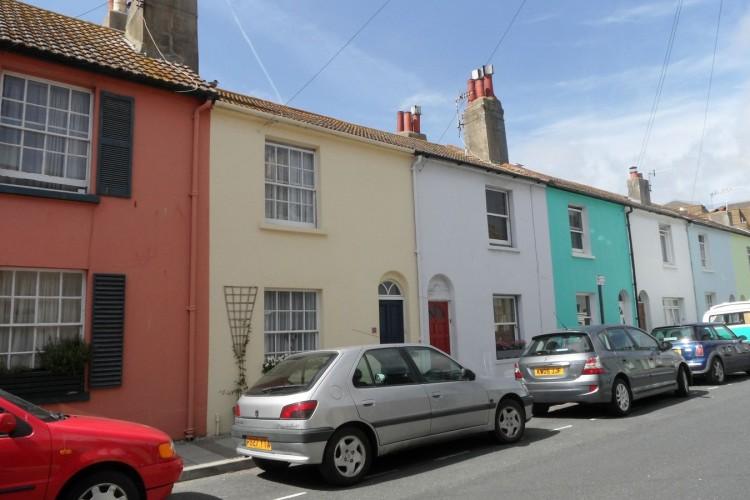 Kemp Street nowadays. Picture courtesy Rightmove.