I wonder if small boys (or even not so small boys) collect train numbers these days? And I don't mean those anorak men one used to see at the end of the station platform with their binoculars and cameras. I'm talking about the 11- or 12-year-olds who stand by the level crossing or on the footbridge over the tracks and write down the numbers of all the engines they see.
It's probably not the same now as it was in my days on the footbridge. Even then things were changing but the electrification of the railway line had not extended much beyond the station at Gillingham, just far enough for the electric trains that terminated there to pull through into the sidings. A quarter of a mile or so further down the line all we would see from our eyrie on the footbridge were real engines, the steam locomotives of the Southern Railway.
There we stood, usually four or five of us, noting down the numbers - and names - of all the engines that passed beneath us on the way to exotic destinations such as Margate and Ramsgate. There were the engines of the Schools class, each named after an English public school such as Wellington or Downside. But I never really liked that class very much. Far more interesting, in my youthful opinion, were the engines of the West Country and Battle of Britain classes. These were built during the first few years after the war and served for 20 years or so before being withdrawn in the mid-1960s. The West Country engines each carried the name of a town such as Swanage and Appledore, while the Battle of Britain engines were named after RAF squadrons or airfields that had featured in the battle.
It was a real treat when the Golden Arrow, the London to Paris express, was diverted through Gillingham, usually drawn by one of the Battle of Britain or West Country engines.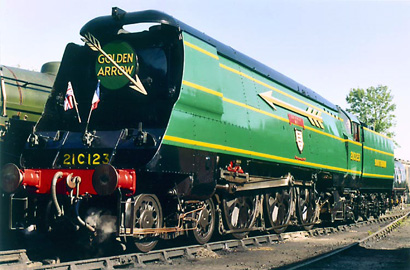 West Country class "Blackmore Vale" pulling the Golden Arrow. Credit:http://www.bulleidsociety.org/
having made scribbled notes, I would take great care when underlining (in red) the numbers of the engines I had seen in my Ian Allan book listing all the engines of the Southern Railway.
Good times.