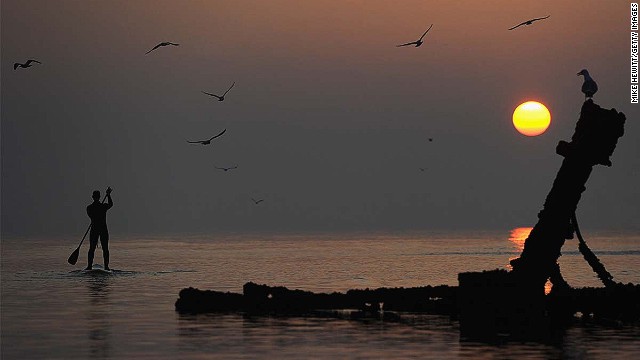 Photo: CNN
According to CNN, Brighton beach ranks as the 4th best in the world after Ipanema, Bondi and Waikiki.
They say:
Brighton's proximity to the British capital has earned it a reputation as a kind of "London on Sea."

Yet while some apply the soubriquet derisively, the town's fusion of hip urban energy and fresh sea air acts as a tonic to any traveler and commuter ills.

The beach, which is mostly shingle down to the low tide mark, is a far cry from the paradise cliches -- this is England after all -- but it resonates charm and pulses with energy, especially on rare sunny days.

Arcane British seaside traditions such as stripy deckchairs, sticks of rock candy and fairground rides abound, but Brighton Lanes -- a maze of quaint streets and alleyways crammed with independent shops -- are a stone's throw away.

Lowdown (5-point system)

Cleanliness: 3 -- Although considered clean by British standards, Brighton doesn't have a Blue Flag -- official recognition by the international Foundation for Environmental Education of "super clean" status.

Visual stimulus: 4 -- Brits aren't slow to strip off at the first glimpse of sun, so there's plenty of flesh on parade during summer. Brighton's (stony) naturist strand was the first official clothes-optional beach in Britain.

Food/drink: 5 -- "London on Sea" is blessed with a superb eating and drinking scene.

Safe swimming: 3 -- The beach slopes sharply into the sea at high tide.

Party factor: 5 -- Great nightclubs and music venues and frequent appearances on the beach by big names make Brighton popular with music fans.
I must go there sometime!